A Pletcher Exacta in the Gulfstream Park 'Cap?

By: Tom
Amello, Trackfacts
Projected Running Positions:
E = Early speed/ need the lead
EP = Early Presser/Front-Half Stalker
S = Rear-Half runner/ Closer
Five of the seven runners entered are "early speed/early position" running types, projecting a crowded and contested but not necessarily strong pace. All are somewhat tactical; none are one-way, need-to-lead, gate-to-wire types.

Stanford (1), Valid (5) and Anchor Down (7) have carried their speed while on the lead to wins or narrow losses in past efforts. Each has been on the lead at the eighth pole when going longer; each has won from an up-close stalking position. Itsaknockout (2) is a sustained stalker who projects to race inside just behind the pace pack. Hesinfront (3) is the lone deep closer.
The Field in Post Position Order: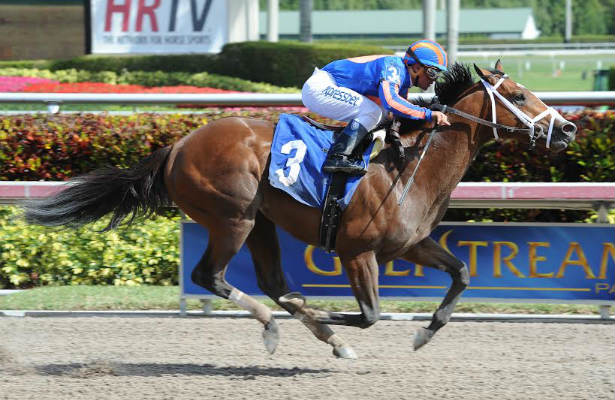 #1 Stanford (7-2) (Early Presser/Front-Half Stalker)
One of four runners from trainer Todd Pletcher, Stanford found himself on the 2015 Kentucky Derby trail after two solid efforts over this Gulfstream Park surface in February & March. He suffered a narrow neck loss in the Grade 2 Louisiana Derby where something must have gone amiss, as he disappeared until June. He returned from that March-June layoff to deliver a strong effort in the Easy Goer at Belmont Park and follow that with a win in the Long Branch at Monmouth. A failed effort in the Curlin at Saratoga sent him back to the bench until his most recent effort in the Grade 3 Fred Hooper, a decent second chasing a modest pace.
Stanford has a history of running well off works and improving next out. He is proven over this surface, well posted inside, has tactical speed to go to the lead or comfortably press the pace. He reunites with a winning jockey in Javier Castellano, who will give him every chance to contend for the win. Stanford's 9-3-3-0 career record is punctuated by his 2nd in the Grade 2 Louisiana Derby. His off-the-board efforts came at 9F via a DQ after veering out late in the Islamorada and doing dirty work dueling throughout in the Curlin stakes. Today's one-mile suits him better. Stanford has worked twice since February 6, outworking stable mates Itsaknockout (1) and Anchor Down (7) on February 20.
While scratches of other speeds will move him up, Stanford might be vulnerable to pace dynamics if the race remains intact. Morning line odds of 7-2 are fair to win, and Stanford is a must use in exotics.
#2 Itsaknockout (2-1) (Mid-Pack Sustained Stalker)
Another runner entered by Pletcher. Following a DQ win in the 2015 Grade 2 Fountain of Youth, Itsaknockout was overmatched in both the Florida and Kentucky Derbies and taken out of training. Off from May to December, this son of Lemon Drop Kid returned to take an Optional Claiming/Allowance heat over this track at this distance, running down a modest pace and easily dispensing six rivals. He returned February 6 to race evenly in a very slow-paced but wide open edition of the Grade 1 Donn Handicap finishing in the front-half as the public's second betting choice.
Itsaknockout gets a smart cutback to a distance at which he is 2/2. Last out in the Donn, he was compromised by the pace dynamics. Itsaknockout gets a much better pace set up this afternoon, benefits most if the field remains intact and the pace is contested. This proven sustained runner is the class closer in this field and projects to get a perfect trip behind a crowded front pack. Regular rider Luis Saez retains the mount. Itsaknockout is a logical win contender and must use in exotics as the morning line favorite but is vulnerable to scratches of speed and/or a modest pace that favors front runners.
#3 Heisinfront (20-1) (Closer)
This Dale Romans trainee's most recent win came over a track labeled wet/fast in an off-the-turf route at Churchill Downs. He has neither won nor finished better than fourth on dry/fast dirt.

Heisinfront is short on class, short on speed figures and needs a complete pace meltdown to earn a check.
#4 Blofeld (6-1) (Presser)
Blofeld is the third Pletcher. This runner retains the services of jockey John Velazquez. A lightly raced 4 year-old son of Quality Road, Blofeld has issues, evidenced by the time he has been given between races. A highly touted juvenile, Blofeld easily defeated four rivals on debut at Saratoga in mid August of 2014. He returned in October to take a narrow victory in the Grade 2 Futurity at Belmont, and crushed rivals one month later over a muddy track in the Grade 2 Nashua at today's one-mile distance. Returning in April of 2015, Blofeld failed to handle a quirky, sealed Churchill Downs surface.

Following another more than two-month rest until July 4, he was outrun in the Grade 3 Dwyer and laid up again to rest and recover.
Blofeld returned at Gulfstream Park on January 27 in a high-priced Optional Claiming/Allowance sprint where, after a rough start, he showed little in a race he surely needed. Today repeats the winning pattern, stretching from a 6F sprint to 8F route, which led to his Nashua victory. But Blofeld entered the Nashua off a sharp effort and narrow win. Talent is talent and potential is just that. Blofeld's reputation rests on two year-old form. He needs a top effort to contend; better limited to exotics.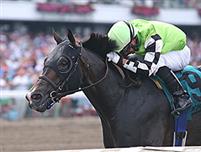 #5 Valid (5-2) (Early Presser/Front Half Stalker
Valid looms the class of this modest Grade 2 field. He gets a class drop following a decent second at 6-1 in the Grade 1 Donn Handicap, tracking a slow pace throughout. Despite benefiting from a slow race flow, Valid had no resistance in the final furlong for eventual Grade 1 Donn Handicap winner Mshawish. This gelding also benefits from cutting back to today's distance.

Valid is not only proven over Gulfstream's main track (13-6-4-1) but loves today's one mile distance (12-4-2-3). However, trainer Marcus Vitali is 7-1-2-2 in 4&Up Graded Stakes at Gulfstream starting just two horses: Triple Arch earned show money in the Grade 2 Rampart, and Valid is 5-1-2-1 overall and 3-1-1-1 at the mile distance.
Tactically, with speedy gate horses both to his inside in Stanford (1) and to the outside in Anchor Down (7), one might think jockey Nik Juarez will read the break and adjust. Note that, except for the Breeders Cup Mile, Juarez has asked Valid to put himself within a length of the early lead. Also, Itsaknockout's (2) lack of gate speed, will allow Castellano to send Stanford (1) if he wants both the lead and the rail. Anchor Down (7) has sprint speed and might be sent early as well. If Juarez rides to form, he could find himself dueling with 1 and/or 7 rather than stalking 3rd in the clear behind those two.
Valid has worked forwardly, earning two bullet works since the Donn, indicating he continues to hold form. If so, he is very likely to run his race and is a win contender. A scratch of either speed horse moves him up; he is, however, vulnerable at short odds to a pace that is strong and contested.
#6 Grande Shores (12-1) (Closing Sprinter/ ??Router)
Grande Shores is an 8 year-old gladiator with 54 career starts and a 40-12-12-7 record over fast/dry tracks. While 36 of those races have been sprints, he has been sent over a route of ground but four times.

All four have been at today's distance and three times in Grade 3 heats over this track, accruing a record of 4-0-2-2. It would appear that trainer Stanley Gold is judicious about placing Grande Shores where it is possible for him to earn checks. In his last two efforts, Grande Shores finished 3rd behind today's rivals Valid and Stanford. While an unlikely win contender, one could assume that jockey Edgar Zayas is again riding for a check and should be limited to deep exotic tickets.
#7 Anchor Down (6-1) (Early Presser/Stalker)
Anchor Down, the fourth and final Todd Pletcher entrant, exits the same January 27 sprint as uncoupled stable mate Blofeld. Anchor Down, however, stalked the moderate pace from the outside, holding well to not lose ground to the rail-skimming Blofeld. One could argue that Anchor Down showed more and ran a better race than Blofeld and should improve off that effort. He is a full brother to Iron Fist, who placed in both the Grade 1 Del Mar Futurity as a juvenile and the Pennsylvania Derby at 3. Anchor Down also has raced three times at 8.5 furlongs around one-turn at Belmont Park, winning one. In each non-winning effort, he gained the lead at the eighth pole before weakening. While his lone effort at today's distance came over a sloppy track he might not have liked, this son of Tapit has route pedigree. He could be the main speed to catch if Lezcano opts to send.
The jockey merry-go-round with the Pletcher runners in this field is interesting. Castellano abandons Anchor Down to ride the rail horse Stanford (1). Both Velazquez and Castellano have ridden Stanford (1) and Anchor Down (7). Velazquez has been the only rider up on Blofeld and opts to remain there. One should not, however, dismiss the presence of jockey Jose Lezcano aboard Anchor Down; he has won 32% riding dirt routes for Pletcher (22-7-2-4).
Like stable mate Blofeld, Anchor Down steps up in class this afternoon. He has worked sharply in company since his last. Anchor Down should appreciate the stretch out following the sprint prep and can be projected to improve at fair odds if able to handle both the class rise and pace dynamics.
#1 Stanford ("Key horse")